Survey: Majority of Users Are Wary of Unsigned Software and Drivers
Home »
Consumer survey finds that a large majority of users avoid installing unsigned software
For any software developer or publisher, one of the worst nightmares is that their software doesn't even get a chance to run, not by any fault of the software but due to security warning because the software is not signed. We recently contracted with Google Consumer Surveys to measure consumer perception of this warning message – the results show that users have a very negative view of unsigned software. Fortunately, there's an easy solution to overcome this warning message: sign your software using a trusted code signing certificate.
Google Surveys: What Users Think of Unsigned Software
In September 2019, we surveyed 250 computer users in the United States via Google Survey, to find out whether end users will use unsigned software.

In the study, we found that 59% of respondents said that they would delete the software if they saw the default Microsoft Windows warning message for unsigned software. An additional 24% said they would prefer to do more research before installing the software. Only 5% said they would go ahead and install the software.

So, it's evident how important it is to digitally sign a device driver or software with a trusted code signing certificate for software developers and publishers who want users to install and use their applications.
Analysis: Majority of Publishers Aren't Signing Their Software
However, many software developers and publishers are being held back in the market because they're still not fully aware how beneficial the signing of software and drivers is.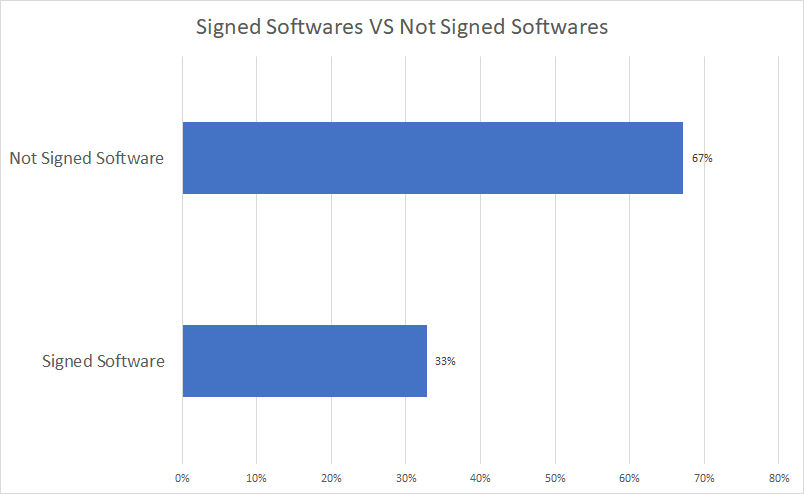 As of October 2019, we analysed 2000+ of the top software downloads available on Tucows.com and found that more than 60% of software publishers or developers are making their software or driver available to users without signing it, while only 30% to 35% are serious enough about security to take the necessary steps.
Analysis: Most Trusted Code Signing Certificates
If you're ready to sign your software or driver and you're thinking of investing in a code signing certificate, below is the market share of trustworthy code signing certificate providers, showing the top providers you can choose from:
How Does Signing An Executable File Help?
To get a certificate, an applicant goes through a rigorous vetting process to prove that they are a genuine company.
A digitally signed driver boosts the end user's confidence in the driver software. For example, the signature helps to verify that the driver is distributed by the vendor claiming to do so, and that an attacker has not altered it.
Most importantly, signing your executables eliminates Microsoft security warning popups.
Key Takeaway Message
As a software developer or a publisher, if you haven't signed your software or driver, getting a code signing certificate and signing the software file will be the best option to boost your users' confidence.
Related Articles: