How to Build a Winning Marketing Strategy for a Startup Software Company
Home »
With more than 71,000 startups in the U.S. alone, positioning your new business in the market can be tough. Discover the "secret sauce" for a killer marketing strategy that'll help you crush the competition and increase your chances of success
Building a startup can be an exciting and wonderful adventure, but it's not an easy task. Few of those businesses that made it reached the stars with business valuations above $1 billion. Many others didn't make it past the first few years. Why? There are many reasons, however, research shows that marketing mistakes are one of the most common reasons for startups failures. This is likely attributed, at least in part, to having a poor marketing strategy for a startup software company.
So, where do you start? How can you build a stellar marketing strategy so that your newborn business can start climbing the ladder of success? How can you avoid becoming another number on the startup obituary list?
Fear not! You may not reach the $300 billion valuations of ByteDance, (TikTok's startup), but this article will put you on the right track. Ready to learn how to build a marketing strategy that'll make your startup thrive without breaking the bank? Let's go!
10 Elements of a Winning Marketing Strategy for Your Startup Software Company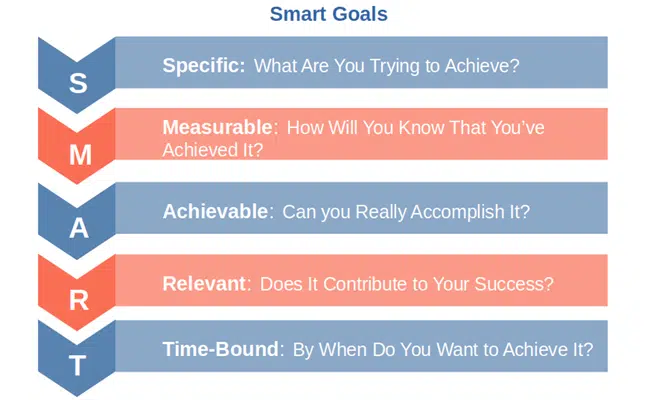 The graphic shows how to build your smart goals
When you're building a house, you always start with a good foundation. Get it wrong and the home will collapse like a house of cards. The same happens with marketing. For a good marketing strategy to succeed, it needs a strong foundation. And for startups, that point is even more important. It's like building a house in an earthquake-prone area.
What are the key items of a rock-solid foundation then?
Define your most important goals. Many startups aren't made up of many people. Employees wear several hats and are responsible for different areas. But trying to do too many things at once is never a good idea. Learn to focus on a few critical goals using SMART goals that are: specific, measurable, achievable, relevant, and time-bound. E.g., acquiring an x number of new customers within the next 2 months.
Measure your progress. OK, you know what you want to achieve. But how will you measure your startup's success? By linking each goal to a specific key performance indicator (KPIs) like customer acquisition cost (CAC) or customer lifetime value (CLV), which we covered previously in our article "What Is SaaS Marketing?"
Set your marketing budget. Did you know that the average marketing budget is around 6.4% of a company's gross revenue? (This is down from 11% in 2020 and 201.5% in 2019.) But we get it — you're a startup and money is tight. Therefore, it's paramount that you know exactly how much money you'll be able to invest. And if you are new to the market and don't have a gross revenue yet, estimate it!
Identify your target buyers through personas. Who are you marketing to? Answer this question by building a few buyer personas (i.e., semi-fictional representations of your ideal customers based on customer data and industry research). You'll then be able to use them to build marketing campaigns that focus on the right people, at the right stage of their customer journey.
Now that your startup has a firm foundation, let's talk about its marketing strategy! Read on to discover the key ingredients to the "secret sauce" for creating a sensational marketing strategy for your startup software company.
One quick note before we dive in: Startups' founders and employees are always very busy playing the head cooks and bottle washers at the same time. If you're one of those types of individuals and you have only a couple of minutes to spare, we've got you covered. Check out our summary table below.
Marketing Strategy Ingredient
How to Get There
1. Tell Your Product's Story

Get personal.
Tell them the why and the how about your product.
Share your failures and successes.

2. Build Buzz Around Your Brand

Unleash the power of personal branding.
Advertise your product and brand.
Build quality content.

3. Use Your Product

Become your product's biggest user.
Put yourself in your customers' shoes.

4. Invest in the Security of Your Software and Organization

Show your customers that your website is secure.
Sign your codes, executables, and updates.
Show off your secure development process with a peek behind the curtains.
Brand your mail.
Organize security-oriented webinars.

5. Get Your Content Out

Diversify and take advantage of what each channel has to offer.
Contribute to external blogs and social media groups.
Create an impeccable and secure website.

6. Get Found With SEO

Identify your keywords.
Optimize your website.

7. Go Beta and Exclusive

Open up your software program's beta version to new users.

8. Get Featured on Industry and Ranking Websites

Arrange to be interviewed by third-party websites.
Get ranked on the industry's review platforms.

9. Take Care of Your Customers

Offer stellar customer support.
Stay in touch and support your customer through every step of their journey.
Provide opt-in updates on new products, features, and tips on the existing ones.

10. Measure Your Success

Check your KPIs.
Test, measure, and repeat.
Listen to your audience.
1. Tell Your Product's Story
Have you ever watched Shark Tank? (Dragons' Den for those of you living outside the U.S.). If you did, you may have noticed that the investors are always asking about the stories behind the products presented. Why? Because they know that a good story can make a product sell like hotcakes. Every product has a unique story. Tell yours, get personal, and show your potential customers how special your brand and products are.
Here are a few quick examples of how:
Tell them how you came up with the idea and why. Did you create your product because it solved a problem you had? Or did you turn your passion into a business? This is what your customers want to know. It'll create an emotional connection between your startup and your audience.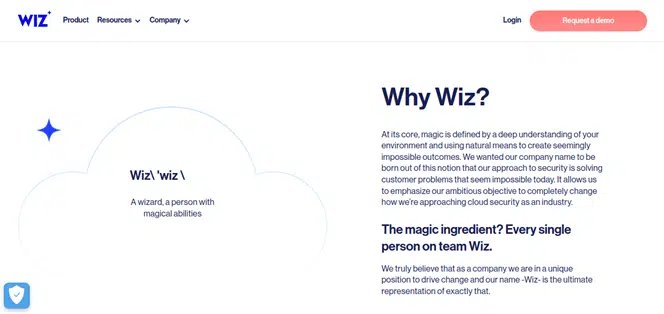 Wiz.io's About page. A great example of how to share with your customers why you decided to start your adventure.
Don't be afraid to share your journey and your struggles. Sharing your story helps you build a personal and emotional connection with your buyers. Look at Apple's amazing story as an example: it all started in a garage.
Be honest, authentic, and consistent. Your audience can tell if you're being untruthful — and if they can't and your dishonesty comes to light later, you'll likely wind up losing your audience at that point.
Become the hero of the story. Win the heart of your audience by showing them that you're the hero they were looking for. You came up with a great idea and designed an innovative solution to solve your customers' problem. You made the impossible possible. Isn't that a hero?
Embed your ethical principles into your startup's values and mission. Did you know that more than one-third of consumers globally would pay a premium for sustainable products or services? And the percentage increases dramatically when talking about generation Z and millennials. Show the world that your startup has a conscience; that it's socially responsible, authentic and ethical. Make these peculiarities a central part of your values and you'll see the difference.
As Ian Rowden, Chief Marketing Officer of Virgin Group once said, "the best brands are built on great stories". And who wouldn't like to be the next Steve Jobs?
2. Build Buzz About Your Brand
Personal branding, advertising, and quality content. These are the three components that'll make your brand resonate in everyone's mind. But how do you put these three components to work for your organization?
Unleash the Power of Personal Branding
The startup front man, the hero of the product story we talked about a minute ago, can be a real catalyst for the growth of a company. Look at Amazon or Facebook — they all have a front man with a strong, personal brand.
Promoting yourself and your expertise will give your startup a unique personal identity. Why? Because you're unique, like your story and values. Build your personal branding and communicate directly with potential customers. It won't cost you a dime and it'll last much longer than any other campaign. It'll get your brand out there in a flash.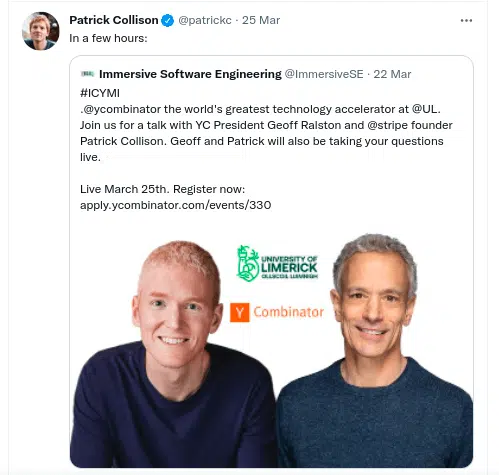 Patrick Collison's verified Twitter page. A great example of communicating directly with potential customers using a combination of social media, live online events, and Q&A sessions.
Advertise Your Product and Brand
In today's digital world, you don't need to spend vast amounts of money to promote your product. There are many ways to get the word out effectively, even on a small budget.
Create organic, quality content. Starting a tech blog about your industry optimized with keywords will help you spread the word, and so will guest blogging and social media.
Use pay-per-click (PPC) to your advantage. PPC ads can give great results. You set the budget and, in some cases (e.g., Facebook and Instagram) it can cost you peanuts.
Partner with the right businesses and individuals. You can also partner with a more powerful brand like Android 4.4 did with KitKat. It doesn't have to be a big company (I know, money is tight), as long as it can help your brand gain visibility in the marketplace.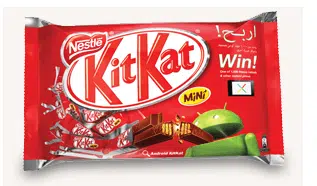 Nestle'. An example of a successful brand partnering.
Build Quality Content
Did you know that WordPress users publish on average 70 million new posts each month? And that each month over 20 billion WordPress.com pages are viewed by 409 million people? With these numbers, it's hard to get noticed if you don't:
Publish exceptional and valuable content. Share your knowledge through guides, case studies, infographics, videos, and interactive webinars.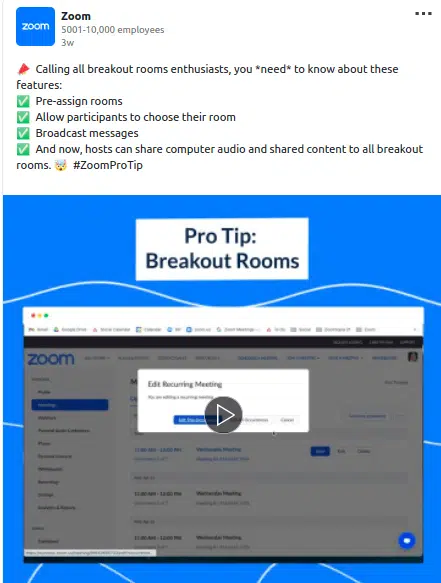 Zoom's verified LinkedIn page. Sharing valuable content is made easy with the use of video and social media.
Make your content engaging. Try to address your potential customers' concerns (hint: you can get those from your personas).
Explore which type of content best resonates with your audience. Tools like Buzzsumo, ContentStudio, and Hootsuite can help you identify trending topics tailored to your audience. And they do offer free plans!
3. Use Your Product
Would you buy a product if you know the company's founder doesn't even use it? Hmm… If they don't use it, there must be something wrong, right? So why should I buy it?
Become your product's biggest user. When you're trying to win the trust of an animal, it goes a long way to gain trust by eating or drinking some of the food and water you provide first to show it's safe. Likewise, by showing customers that you use what you sell, you'll increase trust and help showcase your software.
Put yourself in your customers' shoes. Think like a customer and act like one. It'll enable you to build something that users will love.
Look at Elon Musk — he didn't go to the moon with SpaceX (yet), but he does use his Teslas. Adam D'Angelo (Quora's founder) is one of Quora's top writers. Therefore, don't be shy, if you can, become your startup's bigger fan and show the world how good your products are.
4. Invest in the Security of Your Software and Organization

Which software would you be more likely to trust? Most likely, your response is the one on the right. That's because the pop-up notification tells you that the software comes from a verified publisher (Microsoft Corporation), whereas the one on the left is from an "Unknown" (and unverified) publisher. When you sign your software using a code signing certificate, it will allow you to display your organization's verified digital identity information to facilitate trust with users.
With 76% of interviewed businessesexpecting a data breach in the next 12 months, software security has become one of the top concerns for businesses. Therefore, you can't build a successful marketing strategy for a startup software company without emphasizing how secure your software is. Show your customers that your company is willing to "walk the walk" and not just "talk the talk" when it comes to security. It'll make your product and company stand out from the pack. How can you do that?
Prove Your Customers That Your Website Is Secure
Does your website's URL start with HTTPS? If the answer is yes, it means that it's using a secure protocol. With HTTPS, all client and server communication is encrypted and goes over port 443. Your customers will be able to verify the authenticity of your website through the credentials included in your socket layer/transport layer security (SSL/TLS) security certificate.
Why is it important? Because when your customers will notice the security padlock in their browser's address bar along with your organization's verified identity, they'll immediately understand that they can trust your website. You can also show your customers in a short video or an article how to know if a website is secure. This will help them immediately understand that they can trust you. Thus, they'll be more inclined to making business with you knowing that their sensitive data (e.g., credit card data) are safe.
(Note: To assert your organization's digital identity, you'll need to use an organizational validation [OV] or extended validation [EV] SSL/TLS certificate.)
Sign Your Codes, Executables, and Updates
Did you know that software, too, can have a seal that confirms that it's authentic and hasn't been altered since it was signed? A code signing certificate Is a digital certificate that developers and publishers can use to digitally sign and timestamp their software. Demonstrate to your customers that all your codes, updates, and executables come with a seal of trust, authenticity, and integrity. Explain to them how it'll protect them from malware and you'll win them over.
Show Off Your Secure Development Process with a Peek Behind the Curtain
Is your development team following any secure coding best practices? Is security baked into every step of your development process? Take your potential buyers for a tour behind the scenes and let them see how a secure product is built (hint: this would be a perfect topic for a video). It'll make them feel special and add an extra human element to your marketing strategy. It's like when you get some extra content (e.g., behind-the-scenes footage) with your favorite digital film.
Brand Your Mail
Do you want to get your brand known and at the same time add a bit of extra security to your written communications? Use a verified mark certificate (VMC) and brand indicators for message identification (BIMI) to brand your mail. It'll make your email stand out in your customers' inboxes by displaying your brand logo next to the sender's name. And it'll also help you prevent phishing and spoofing while promoting trust.
Organize Security-Oriented Webinars
Anyone interested in software is also interested in security. Organizing webinars giving practical solutions to security issues or answering security-related questions, it's a good way to showcase your expertise and promote your brand. In fact, it's been demonstrated that educational content is top for driving engagement. Teach your customers:
These are just a few examples, of course. Make sure you pick your topics based on your personas.
5. Get Your Content Out
With personas, you've already found out the most used media by your potential buyers. Why not use this precious information to build your marketing strategy? It'll also help you select the right communication channels.
Diversify and take advantage of what each channel has to offer. Never focus on just one platform — it's the digital marketing equivalent of putting all your eggs in one basket. As a software development company, you'll probably find out from your personas that LinkedIn, Facebook, and Twitter are among the social media platforms they use. The same channels are also the top choices of content marketers. YouTube can be a great platform to post videos and webinars, while if you're a B2B startup looking to generate leads LinkedIn can be very effective.
Contribute to external blogs and social media groups. Blogging on third-party websites or inviting an expert to blog on your site can increase your website traffic, thus getting you more subscriptions and leads by reaching a wider audience. Getting involved in conversations on industry-related social media groups can also help you build relationships and get your brand out there.
Create an impeccable and secure website. As a software development startup, this is something that you can't get wrong. How can you expect a customer to buy your software product if your website is poorly built and lacks security? Make sure your website is secure, and provide a smooth customer experience (e.g., offer an easy and safe way to sign up as one of your SaaS marketing tactics). Don't forget to add compelling content to your pages.
6. Get Found With SEO
Did you know that search engine optimization (SEO) has a leads-to-close rate of 14.6% while email and other kinds of advertising have only 1.7%? Yes, SEO can be tricky to master, and you'll have to constantly adapt your strategy to the ever-changing search algorithms. But if you can nail it, it can be a real boost that can benefit you for months or years to come. How?
Identify your keywords. Understand what words or sentences your personas use to look for products similar to yours. Tools like Semrush, Moz and Ubersuggest can help you with that.
Optimize your website. A search engines friendly website can be a valuable addition to the marketing strategy for software development companies like yours without spending a fortune.

Use HTTPS instead of the insecure HTTP protocol to get a Google search ranking boost.
Include keywords in your content so the potential buyers in your niche will easily find it.
Make your website mobile friendly. You really don't want to miss more than half (nearly 60%) of all web traffic.
Think about accessibility for visually impaired and deaf individuals — not optimizing your site and video content for accessibility means you're missing out on billions of individuals. The World Health Organization (WHO) reports that more than 2.2. billion worldwide are living with visual impairment and 1.5 billion people are living with hearing loss globally.
Ensure your website loads fast to avoid your prospective customers abandoning it. Because if your website takes more than three seconds to load, you may be losing 53% of your potential customers.
7. Go Beta and Exclusive
Have you ever asked yourself why people are queuing for days (and nights) just to be able to grab the limited edition of the latest branded smart watch? It's a psychological thing called FOMO: fear of missing out on something. It's all about being part of an exclusive group. Leverage this mindset and you'll see your startup fly.
Open Up Your Software Beta Version to New Users
Tell your customers they can have a sneak peek at your software by invitation only like Slack, PayPal and Pinterest did in their early days. This will add the touch of exclusivity to your product that people crave. In addition, this will enable you to test your product with real users and adapt it to their needs.
Does it really work? Yes, it definitely does. When Google did it for its mail service, one of my friends got the invitation. Oh boy, he couldn't stop bragging about it! But his excitement was understandable — at the time, invites were sold on eBay for up to $150! Having one was like winning one of Willy Wonka's golden tickets.
8. Get Featured on Industry and Ranking Website
Software companies can choose from a variety of industry-related sites that can help spread the word. Pitch your products and story to the sites you think would be most suitable for your business to see what bites.
Arrange to be interviewed by a third-party website. For an unknown startup getting an interview published on a site related to your niche can be as valuable as gold. There are several trustworthy websites out there that can allow you to share your message with maximum exposure.

AllTopStartups. A blog full of essential tools, articles and resources to help entrepreneurs starting and growing their businesses.
BetaList. A platform enabling companies to advertise their startup and new products while enabling users to discover new products and become early adopters. (Hint: kill two birds with one stone by getting interviewed and promoting your invitation-only program we talked about a minute ago).
Startup Chronicle. A startup talking about startups. A website featuring stories of startup founders. Do you want to talk about your journey, challenges and dreams? Contact them to get interviewed.
Get ranked on the industry's review platforms. Register your startup on raking platforms like
All this will enable you to gather customers' reviews, strengthen your credibility and gather feedback to help you make improvements.
9. Take Care of Your Customers
When you look after your customers, they'll almost always come back, sometimes bringing a friend or two along with them. As a startup, you'll need to get as many customers as possible. Taking care of those who already know and love your product will help you reach that goal.
Offer stellar customer support. Delight your clientele with a superior customer service experience before the sale and after. Treat your customers like people, not like a number in a support ticket queue. You'll be rewarded.
Stay in touch and support your customer throughout their journey. Guide them during their buying experience and keep engaging them even after making the sale. You can use newsletters, special offers, and exclusive free content. Everything you can think of to keep them excited about your product or service.
Provide opt-in updates on new products, features, and tips on the existing ones. Find creative ways to explain how your software can make your customers' lives easier. Share tips on how it can be used and/or its new features.
Speak directly to your audience. If your audience is highly technical, cool — then you can use terms and lingo that are common to your industry. But always be sure to still include simple language and explanations as well so that everyone (including less tech-savvy readers) can understand you. Not everybody is technical, therefore, using only technical jargon is a no-no.
10. Measure Your Success
If you have gone through and implemented most of the points listed above, you've now managed to build a unique, first-class marketing strategy for your startup software company. How is your startup doing then after all this hard work? Let's discover how you can find it out.
Check your KPIs. We've already talked about key performance indicators at the beginning of this article. Did you acquire more customers? If the answer is yes, well done! If you didn't, then it's time to understand why and act upon it, which takes us to the next point.
Test, measure, and repeat. A simple three-step rule that'll enable you to identify issues and improve your strategy.

Stop guessing and use A/B tests instead. Create two versions of a landing page, social media post, new features, or newsletter so that you can measure through clicks and views which one works best. Companies like HubSpot and Google offer free A/B testing tools and more to help you spot the best experience and personalization ideas.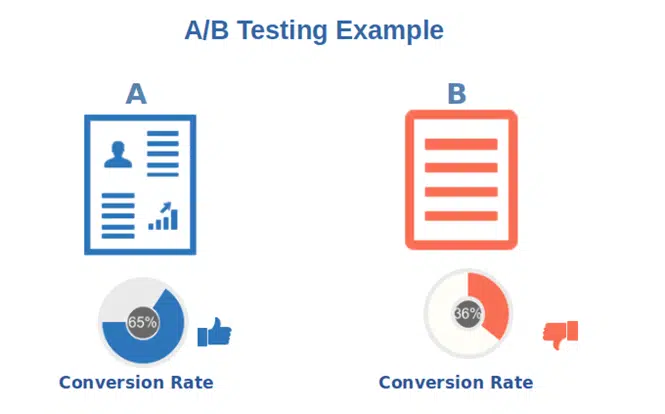 Filter out the metrics that didn't reach the goal. Check your KPIs. Which ones didn't do well? Focus on those.
Listen to your audience. Comments and feedbacks are a wealth of information that can help you pinpoint what works for your customers and what doesn't. Let their needs drive what your startup does and build your product around them. You won't be disappointed.
That's all folks! You're now ready to transform your startup into a star!
Final Thoughts on How to Build a Winning Marketing Strategy for a Startup Software Company
Building a killer marketing strategy for software development companies can be challenging and, sometimes, overwhelming. This is particularly true in the case of startups. The points listed in this article are the key elements that'll help you build a successful and effective marketing strategy.
Start laying the foundation of your success now by building an unbeatable strategy. Understand your audience and their behavior. Think about branding, building a digital presence, and taking care of your customers (both by providing great products and securing the personal data they entrust to you). Because a great product alone is no longer enough. Be bold, creative, and think outside the box.
And remember: your startup is only as good as its marketing plan.