What Is SaaS Marketing & How Do You Do It?
Home »
SaaS is taking the world by storm — businesses used 38% more SaaS apps in 2021 than 2020. But competition is getting tougher and security has become an issue. Learn how SaaS marketing will get your app to sell itself in such a challenging environment
Did you know that the software as a service (SaaS) industry is projected to top $208 billion in end-user spending by 2023? To date, it's not only growing fast, but it's maintaining a significant lead on all other cloud options. This is music to every SaaS organization's ears.
However, with every hot market comes a lot of competition. What can you do to ensure that your organization stands out from the crowd in such a competitive industry? The answer is SaaS marketing.
This article is the first of a three-part series that'll provide you with everything you need to know to get your business ahead of the pack and dramatically increase your sales with the help of SaaS marketing. Today, we'll start with the basics and answer the following questions:
What is SaaS marketing and how does it differ from other marketing types?
Why is it important?
How can I get started with SaaS marketing?
Let's dive in!
What Is SaaS Marketing? An SaaS Marketing Meaning and Definition

Software as a service (SaaS) marketing is the set of tactics and strategies used to promote and sell subscription-based software products. These are products that customers can access through the cloud and on-demand that you provide additional services for (technical support, updates, new features, etc.). SaaS marketing is the magic formula that makes your intangible product sell like hotcakes. Like in that old 1960s Hollywood movie ("Lover Come Back") where everybody wanted to buy the "Vip" — a product that didn't even exist — thanks to the right marketing tactics.
Could you simply use the traditional marketing methods to try to achieve the same results? Yes, you could, but you wouldn't get too far. Why? This is what we're going to see next.
Why Is SaaS Marketing Important?
OK, I get it. Why would you need to spend money on SaaS marketing if you've already had great feedback about your latest software? You know that it's amazing, and you're sure that'll fly off your virtual shelves as soon as you put it on the market.
That's fine, but there are several key lingering questions that you'll need to answer:
How will you reach your target audience?
How will people know about your software and its capabilities?
What can you say or do that will make them want to buy it?
SaaS marketing is your best bet to make all of this happen. Still not convinced? Let's explore several key reasons why you should use SaaS marketing to your advantage:
Enables you to attract and retain customers. SaaS marketing will help you find potential buyers, convert them into leads, close the deal and keep them happy (i.e., the SaaS funnel, we'll talk more about it in our next article). It's a never-ending cycle, like the ouroboros symbol of the serpent biting its tail. SaaS marketing's job is never done.
Helps you generate leads more easily thanks to freebies and free trials. Always remember that you're selling something that can't be touched. How would a potential customer know if he likes what you're offering if he's not able to try it first? This is why free trials are so effective. The customer can see and evaluate your software based on their experiences and interactions. If they like the experience, they'll be more likely buy your service at the end of the trial period. Because like Benjamin Franklin once said, "People are most convinced by things they themselves discover."
Boosts customer satisfaction by focusing on service quality and security. In your industry, a happy customer is a customer for life. If you want to keep them using and paying for your product, you'll have to keep them happy and their data and systems secure. It's a bit like having chickens: if you want them to continue laying eggs, you have to care for them and make them feel safe. Providing top-notch customer service and support, a secure website, regular product updates, and digitally signed patches and updates (signed using code signing certificates) will be fundamental ingredients to your marketing strategy.
Allows you to sell everywhere in the world, slashing costs. With the right strategy, your marketplace will be the world at a fraction of the costs. You'll be able to sell your software 24/7, 365 days a year, anywhere, without even leaving the office. Personalization, localization, and security will be your allies. SaaS marketing will make your brand stand out from the noise of a global market, creating a real connection with potential customers in a virtual world.
Helps you promote and sell your non-tangible product. Traditional businesses can advertise their products in many ways. They can showcase them in the real world, in shops, or choose to go a step further and use digital marketing. SaaS companies don't have such a wide range of choices. SaaS marketing is all they have.
At the end of the day, even the most unique SaaS product needs to be promoted to get noticed. It has to be seen by potential customers as the solution that will make their jobs easier. They'll need to try it, understand it, and be blown away by it before buying it. You'll also have to keep them interested all along their journey while fighting competition. SaaS marketing can make all this happen. It'll transform your business into your customers' favorite one-stop shop for the best and most secure solutions to many of their problems.
Why Is SaaS Marketing Different From Other Types of Marketing?
Selling SaaS products isn't like selling traditional items like a laptop or a smartphone. If you work at a SaaS company, you're well acquainted with the following challenges:
Marketing non-physical versus physical products. Most SaaS products are not tangible. They usually have a lot of different features and must continually be updated and maintained by the manufacturer. It goes beyond just selling a product with all the bells and whistles; it's about providing quality service that your customers trust and know they can rely on. And promoting an experience can be much more challenging than advertising a smartwatch.
Maintaining long-term relationships with customers (versus short term/one-off sales). When you buy a new desktop, even online, you order it, pay for it and that's it. The sale is done. With a SaaS product, the sale doesn't end there. As it runs on subscription, your strategy will have to focus more on long-term customer retention. Churn rate (the percentage of customers dropping the subscription) will become a critical concern. Providing great after-sales service and a safe experience to customers will be paramount to your continued success.
Overcoming the window-shopping mentality in a virtual shopping industry. How do you grab customers' attention when you can't display what you're selling like a computer store in a shopping mall does? Competition is high and getting ahead of the curve in a virtual world isn't easy. This is where providing free trials of your products can come into play.
In summary: SaaS marketing is a more complex variation of conventional marketing because of the intangible nature of the products (services) sold. The focus is on customer experience to ensure retention.
Do you still think that your organization can afford to ignore the power of SaaS marketing? If your answer is no and you want to take advantage of its potential, it's time to discover how you can get started with it.
How Do You Do SaaS Marketing?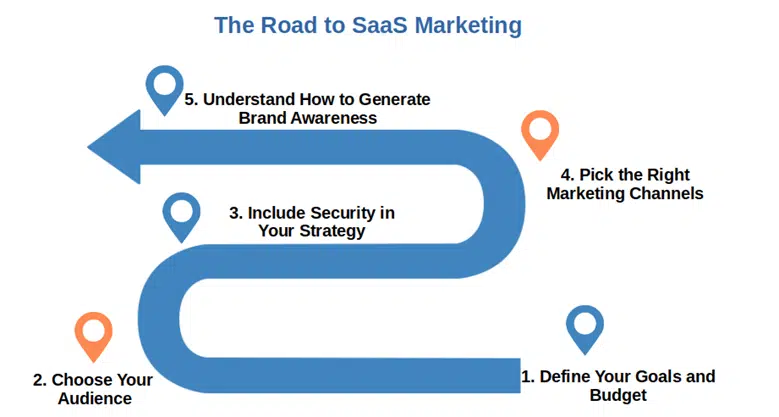 Before jumping into picking the best strategies for your organization, you'll need a plan. Set your goals and find your path. It's that simple. A clear roadmap is the base of every good SaaS marketing strategy. How do you do it?
1. Define Your Goals and Budget
Make sure you know what your goals are and that they're measurable. Traditional key performance indicators (KPIs), like the number of your website's unique visitors and session duration, can be helpful. However, with SaaS you'll need more specific KPIs:
Customer acquisition cost (CAC). It'll enable you to compare your marketing costs and efforts to the number of newly acquired customers.
Lead conversion rate (LCR). It'll measure how many trial or demo requests you'll manage to get for each visit to your website.
Customer lifetime value (CLV). It'll give you an idea of the average amount a customer will spend for the duration of his subscription, enabling you to forecast your SaaS marketing budget.
Customer churn rate. Customers come and go, even in the digital world. This will measure the percentage of paying customers canceling your service within a given period. I know, it's not a nice thought, but it happens. This is particularly true when customers leave businesses when they experience data breaches.
Monthly recurring revenue (MRR). SaaS organizations usually offer different subscription plans based on a monthly fee. Are you an established company looking for a steady cash flow? Push for the annual plan. Are you a startup or a growing business looking to get more customers? Focus on monthly subscriptions. Whatever you choose, this is an important indicator, so make sure you define it clearly.
2. Choose Your Audience
When you're offering a solution to a problem, you're targeting a specific group of people or organizations. Therefore, identifying your audience is the first step to building a successful marketing strategy.
Ask yourself key questions that will help you understand and categorize your prospective customers. An example of typical questions you can ask yourself include:

How old are they?
What roles do they fill?
What are their information sources?
What are their frustrations or pain points?
Where does security rank in their list of priorities?
Use analytics tools and social media platforms like Facebook to analyze your audience's traits. Once you have pinpointed certain characteristics, check them in detail across various categories.
Use this information to develop customer personas. Sometimes also used at the very beginning of the development process, this approach helps you put a face on your ideal customers using archetypes built on the key characteristics identified by your research.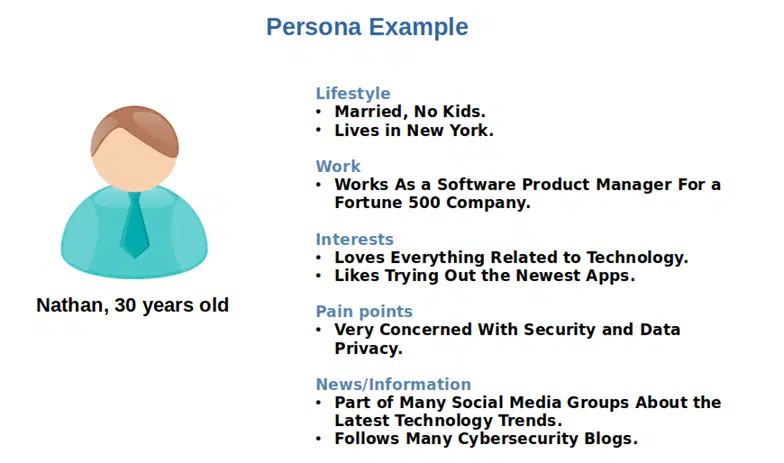 And once you've successfully identified your audience, it'll be much easier to tailor your strategy and content to target their specific pain points and needs.
3. Include Security in Your Strategy
A secure brand is a trusted brand. With major SaaS companies being recently affected by highly sophisticated cyber attacks, security has become a top concern for customers and organizations alike. Therefore, adding some of the measures listed below to your plan has never been so critical:
4. Pick the Right Marketing Channels
Have you been publishing the same promotional message on all available marketing channels, hoping that someone will notice it? If you did, think again because that's the easiest way to throw your marketing budget away. Why? Because of the personas we mentioned earlier.
Not everyone uses the same channels. Some people like reading blogs and watching short videos, for example, some others prefer social media. Others rely on word-of-mouth and reading reviews. Personas helped you to build the different profiles of your ideal buyers. Use them. Check which channels they prefer to spend time on and next time, focus on those. You'll save money and get better results. You can pick among:
Radio stations and TV, in case your targeted audience is a more mature one.
Email is an evergreen classic. If you go for it, make sure you digitally sign it. It'll ensure your customers that the message is really coming from you. You can also boost your delivery rate by implementing domain-based message authentication, reporting & conformance (DMARC).
Social media like LinkedIn, Facebook, Twitter but also GitHub, and Reddit.
Podcasts and videos.
Blogs and e-newsletters.
Last but not least, don't forget about review websites. When customers provide positive feedback, it can be valuable to your organization. They'll help you increase your conversion rate and enhance customer trust. Encourage your customers to post their feedback on:
5. Understand How to Generate Brand Awareness
Mailchimp, Slack, Zendesk, and Jira. These are just a few brands that were completely unheard of during their first years of trading that later became some of the most successful and popular brands in the SaaS world. How did they do that? With a bit of luck (that's always a plus) and by adding something else to their written materials and advertising videos:
Search engine optimization (SEO). Did you know that websites using a secure socket layer/transport layer security (SSL/TLS) certificate on top of their traditional SEO strategies can get a ranking boost in Google search results? The same certificate will avoid your website being flagged as insecure by major browsers and has the added benefit of adding your verified digital identity to your site.
Referral marketing. In 2008, Dropbox increased its signups by 60% (yes, you read it right) just thanks to its referrals program. Their brand's popularity grew exponentially using the power of words of mouth!
Now that you have your roadmap, you can start thinking about tactics. Out of ideas? Check out our next article to learn a few winning SaaS marketing tactics that'll make your products and services stand out among the sea of software as a service programs out there.
Final Thoughts on What Is SaaS Marketing & How Do You Do It?
The SaaS market is getting tougher for service providers as organizations continue to accelerate their digital transformation and increasingly demand more SaaS products. Knowing the SaaS marketing meaning and its basics are the first steps in your journey towards making your services stand out from the competition and unlocking your business's success. It'll help you create an engaging and high-impact strategy that'll make you thrive in such a challenging environment.
Start beating the competition and take your business to new heights now! Follow the tips we've shared today, and don't miss our next article. You'll discover some winning SaaS marketing tactics you'll be able to implement immediately. Get ready to increase your ROI!