CHEAP CODE SIGNING CERTIFICATE COUPON CODES
Whether you're looking for the cheapest EV code signing certificate or a standard certificate, get the most bang for your buck with code signing promo codes and coupons that give you up to 70% off MSRP
While some things in life may be free, code signing certificates aren't among them. However, that doesn't mean you can't get cheap code signing certificates to sign your software, code, and containers.
With our deeply discounted signing certificate prices, it's almost like getting code signing certificate Black Friday discounts all year 'round. But just because we can't help ourselves, we've put together a list of coupon codes to offer you even greater deals. Just take a look at these discounted prices to see for yourself:
Secure your code with a code signing certificate from the industry-trusted brand Comodo. The more you buy (in terms of certificate validity period), the more you save on each certificate:
The cheapest EV code signing certificates can be found right here when you use the following coupons for one-, two- or three-year certificates:
Code signing isn't difficult, and saving money doesn't have to be, either. Choose one of the following coupon codes to get up to 12% off on your Sectigo certificate:
Save 10% on one-, two- and three-year Sectigo EV code signing certificates with the following codes:
Take your pick and save 10% on one-, two- and three-year DigiCert EV code signing certificates:
How to Use a Code Signing Certificate Coupon Code
Decide the validity period of a code signing certificate you want to purchase from the list above.
Copy the coupon code of the code signing certificate you're buying.
Click on Add to Cart button. It'll take you to the checkout page.
Enter your copied coupon code in the Coupon code box
Click on the Apply Coupon button to watch the price drop.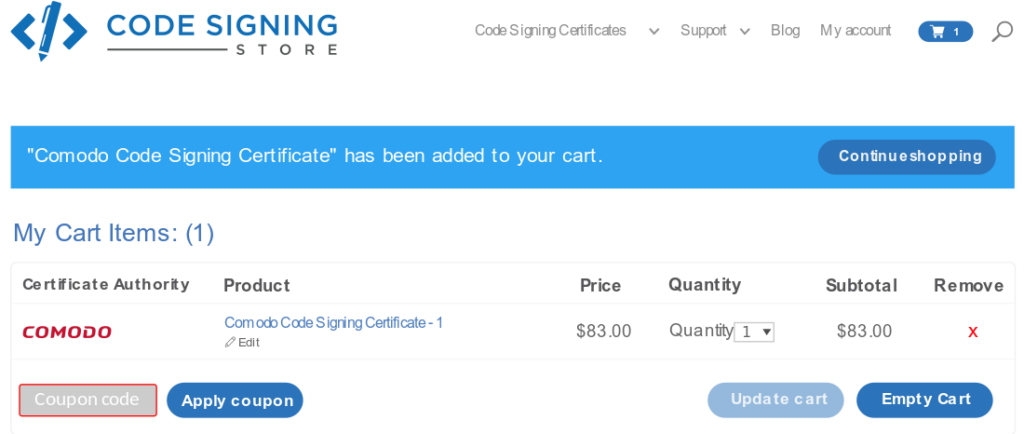 That's it! Now, move forward with the secure checkout process to buy your cheap code signing certificate from CodeSigningStore.com.
Why Choose CodeSigningStore When Buying Your Cheap Code Signing Certificate
Here, at CodeSigningStore.com, you'll get the same code signing certificate at a lowered price range, which you get from the respected certificate authorities like Sectigo. We've also got some special offers running in which we offer discount coupons for already low-priced code signing certificates. Whether you choose one year, two years, or a three-year validity period, we've got discounts for every product offered by all the certificate authorities we deal with.
As a software developer working for an organization or working as an individual, signing your software package with a code signing certificate is vital. Take advantage of discounts of up to 70% off MSRP on a code signing certificate. This way, you can assure users that their software is coming from a trusted source and hasn't been tampered with since its signing.
If you decide to use an EV code signing certificate, you'll have the added benefit of preventing those pesky Windows Defender SmartScreen warning messages from displaying: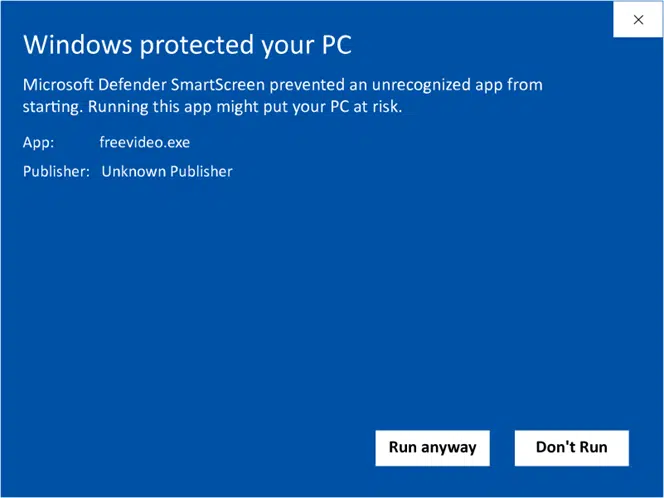 What We Serve
30 Days Money Back Guarantee
In case, if you want to cancel your order within the 30 days of purchase, you will be able to do so. You get a 100% money back guarantee from us without any deduction.
Guaranteed Lowest Price
We attempt to stay on top. We're confident enough to say that hardly anyone can beat us on the price. If you find a lesser amount than us, let us know to get better pricing.
24/7 Support
Have any questions or issues? No worries, we've got your back. We have Support section where you can get 24×7 help from our experts via Chat, Phone and Email.